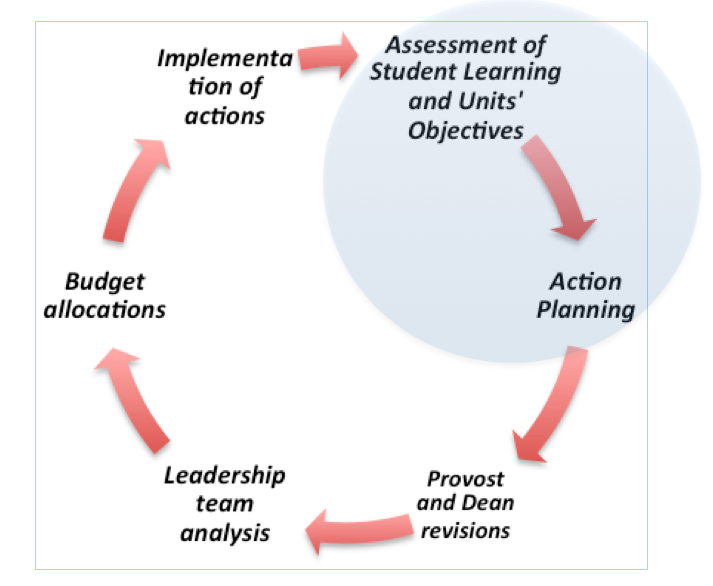 Assessment of institutional effectiveness and student learning is an integral part of the planning and implementation of university activities.
AUP assessment processes supply academic departments and administrative units the information necessary for planning future actions. These actions are revised and analyzed by the university leadership that allocates budget as appropriate. The planned actions are then implemented and the cycle continues with a new assessment phase.
Assessment is a planned process and  one type of action that may result from the analysis of assessment findings is a revision of the assessment plan.
The AUP assessment cycle is annual, meaning that units produce an assessment report once a year; at this time possible changes to the assessment plans are also considered and, if implemented, they apply for the following academic year (see Assessment Calendar).
1. The Office of Assessment, Learning and Institutional Research will improve the understanding of student learning processes at our institution by ensuring that the assessment process is organized, systematized, sustained, planned, useful, cost-effective and reasonably accurate and truthful[1].
2.  The Office of Assessment, Learning and Institutional Research will provide appropriate decision making tools supporting curriculum development, faculty development and administrative processes by ensuring that assessment is seamlessly integrated in all University processes.
3. The Office of Assessment, Learning and Institutional Research will ensure wide participation in, and understanding of, assessment processes by communicating assessment procedures and results effectively.
Responsibilities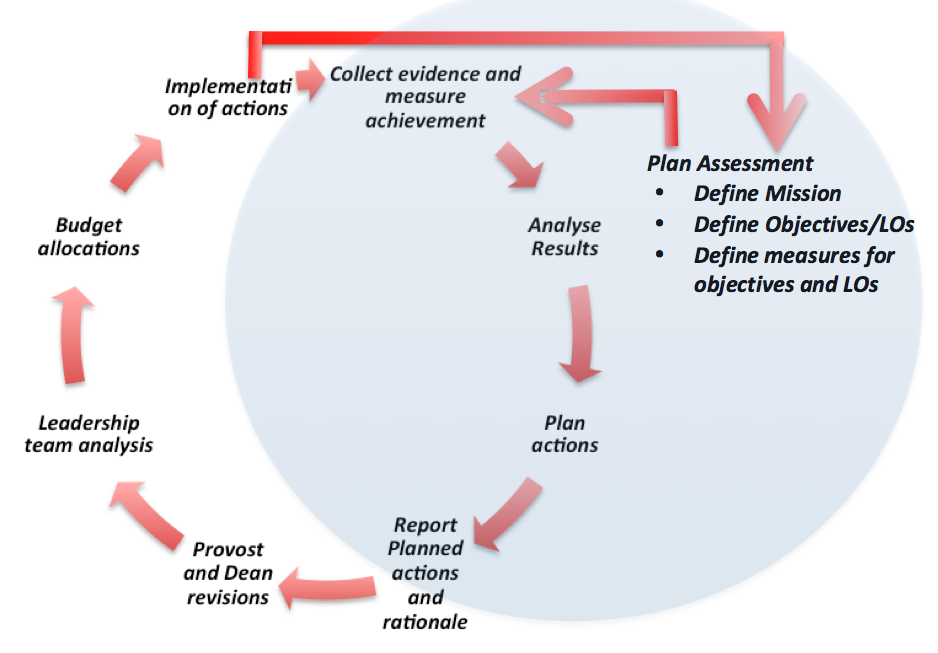 Leaders of administrative units and chairs of academic departments are responsible for planning, implementing and reporting in a timely fashion on the assessment processes within their units. The chair of the General Education Committee is responsible for producing the general education assessment report, he/she is supported by the committee and the chairs of departments offering general education courses (e.g. English, French, Mathematics, Science).
The office of Assessment, Learning and Institutional Research provides support and guidance for assessment of student learning and institutional effectiveness. The office aims to enable continuous improvement of student learning and promotes institutional effectiveness through the analysis of the quality and variety of student learning experiences and the evaluation of the effectiveness of all academic and administrative processes of the institution. The Dean, supported by the University Assessment Task Force, works in strict collaboration with all units of the institution ensuring that assessment processes are effective and informative, that the planned actions resulting from the analysis of evidence are visible, realistic and eventually implemented and assessed in their turn.
See Planning Assessment section for more details on the role and definition of mission statement, objectives and learning outcomes, and measures in the assessment process.
[1] These characteristics reflect Middle-States requirements as indicated in the document "Assessing Student Learning and Institutional Effectiveness: Understanding Middle States Expectations" (see Reference Documents section of this Web site)