Travel plans should be made as far in advance as possible to secure reasonable prices. However, we advise that you wait until you obtain your visa before booking to avoid the risk of having to make last minute changes. 
Student flight rates
There are a number of reduced-rate travel possibilities available to you as a university student. You should consult local airlines directly for information on youth and student reductions. A number of discount travel agents exist around the world. Some of the most popular with students are USIT and STA.
Most European countries participate in an international network of student flights under the aegis of the Students Air Travel Association. The Student Air Travel Association is an association of member organizations that specialize in the development of air travel opportunities for students and young people. The fares on SATA flights are normally 40% lower than commercial fares. More information is available from the national student association of your country of residence. They can also supply you with information on special student train fares.
If you live in Europe and intend to travel by train, the SNCF (French National Railway) offers a number of reductions to students under 26 years of age: www.voyages-sncf.com.
Free airport shuttle upon arrival
AUP organizes free of charge shuttle service from the Charles de Gaulle Airport only to campus for undergraduate students or to the FIAP for graduate students who have requested it ahead of time using the checklist above.
This service is only available on your published arrival date.
Taxi
For those who will not use our shuttle service, Parisian taxis are now required to give a flat rate between the airport and Paris. It will cost you 50-55€ from the Charles de Gaulle (CDG) airport, or 30-35€ from the Orly airport. There are authorized taxi stands just outside the airports, so follow the signs rather than using a service offered at the arrival gates.  You may also want to verify the flat rate amount prior to getting into the taxi, and be sure to note the driver's name and registration number if you have any problems.
Useful tips
The electrical current in France is 220 volts; transformers that correct voltage differences can be purchased locally or at airports.
Temperatures may dip below 0° C (32° F) in the winter months. Bring some warm clothing and a heavy coat.
Students taking prescription medication should bring at least one month's supply with a written prescription, and take note of the medication's pharmaceutical name.
Be aware that shipping can be expensive and may involve customs delays and fees. It is best to travel with all of your belongings, and pay an excess luggage fee.
Accommodation for parents and early arrivals
AUP has established partnerships with 4 star hotels in Paris from the INWOOD hotel chain.
These corporate rates will be valid all year long, depending on availability. Be sure to use the reservation code "AUP2021" for a 15% discount and free breakfast (non-refundable).
All of these establishments have been completely renovated and include all amenities (WIFI, elevator, room services). Our partnership with INWOOD includes the following 4-Star hotels: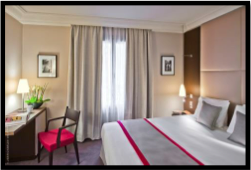 Hotel Le Derby Alma
8 Avenue Rapp, 75007, Paris
+33 (0)1 44 18 77 77
lederbyalma

inwood-hotels.com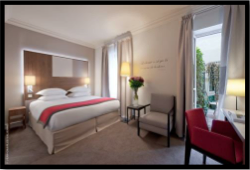 Hotel Le Tourville
16 Avenue de Tourville, 75007, Paris
+33 (0)1 47 05 62 62
letourville

inwood-hotels.com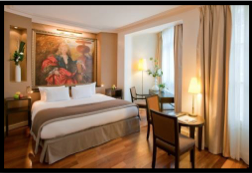 Hotel Le Walt
37 Avenue de la Motte Picquet, 75007, Paris
+33 (0)1 43 06 31 50
lemarquis

inwood-hotels.com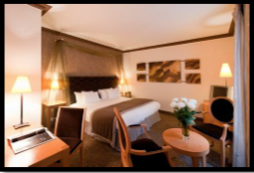 Hotel Le Marquis
15 rue Dupleix, 75007, Paris
+33 (0)1 43 06 31 50
lemarquis

inwood-hotels.com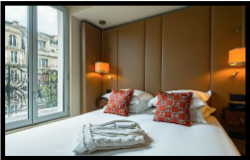 Hotel de la Bourdonais
111 - 113 Avenue de la Bourdonnais, 75007, Paris
+33 (0)1 47 05 45 42
labourdonnais

inwood-hotels.com
There are some other accommodation options that you may wish to explore including using Booking.com to search for a hotel or Airbnb.com for an apartment in Paris.
We would advise that you pay attention to location as you will undoubtedly wish to be in close proximity to AUP's campus in the 7th arrondissement.